 Look Good. Feel Great. Perform Well.
Fitstra is an online platform for free workout programs and educational content designed to help you increase strength, build muscle, lose fat, and improve cardiovascular conditioning through research based training practices. 
For all Fitstra programs, exercise selection is kept simple by focusing primarily on barbell, dumbbell, kettlebell, suspension trainer, and bodyweight exercises – free weights, not machines. These tools offer a wide variety of movement options and training styles while remaining constant in their availability and function from gym to gym. Learning to use standard pieces of equipment will provide you with the best training foundation to scale your workouts as you progress in ability. Volume, emphasis, and intensity vary based on the needs and goals of each client but generally, I prefer to focus on more traditional strength and hypertrophy programming.
Similar to the resistance training philosophy, all cardiovascular conditioning programs focus on natural/functional movement patterns and are designed to supplement existing resistance training programs. Running/walking form the preferred aerobic base and are complimented by a variety of high intensity exercises designed to increase anaerobic thresholds. By training both aerobic and anaerobic energy systems, we can increase our work capacity, target fat loss, and increase our general health. Fitstra programs place a heavy emphasis on weight training, but no lifting program is complete without a consistent cardiovascular component.
For more in depth nutritional needs and planning, I like to work with and refer clients to trusted registered dietitians. The lab testing, metabolic assessments, and other dietary based diagnoses RDs provide are invaluable assets to any complete fitness program. Because food plays such an important role in our exercise progress, to not use the services of knowledgeable and qualified nutrition professionals when needed would be an arrogant and reckless approach to physical wellness. With that said, I do feel comfortable making general dietary recommendations that work well for most clients. A diet that emphasizes the importance of protein from a variety of sources, appropriate carbohydrate sources/intake quantities, fiber rich vegetables, unsaturated fats, and responsible alcohol consumption can be really effective for most people. Smart meal compositions, adequate hydration, plenty of sleep, and the use of research backed supplements can change the way you train. I program workouts to increase your physical capabilities and your food should fuel you for optimal performance, not be restrictive for the sake of weight loss.
By establishing relevant baselines, regularly checking progress, and modifying program design when necessary, we can work together to eliminate plateaus, ensure that you never get stuck, and keep you advancing towards your goals.  This is not a revolutionary take on exercise but it's one that I strive to execute extremely well. Regardless of your age, sex, fitness experience, or preferences, there's something for everyone at Fitstra. 
Exercise is a pretty special activity to me. As a kid, I was overweight, out of shape, and unhappy with my appearance but didn't have the knowledge to change my situation. When I was like 11 or 12, I remember running laps around the outside of my house paired with a few daily push ups just hoping that the expended energy would result in something positive – it usually ended with me eating more snacks. I was really eager to put in the work, but I had no idea what I was doing. That lack of direction was pretty frustrating.
During my freshman year of high school, I had the opportunity to be taught by a great strength and conditioning coach. His workouts were tough, built around a set structure, were implemented with purpose, and always delivered results. Within two short years, my body had transformed completely and I discovered that a couple exhausting hours in the weight room made any anxiety/depression I was feeling disappear. It was during that time that I caught the fitness bug and realized exercise would always be part of my life. This high school hobby turned into a more serious part of my life in college while studying exercise science and pursuing my degree.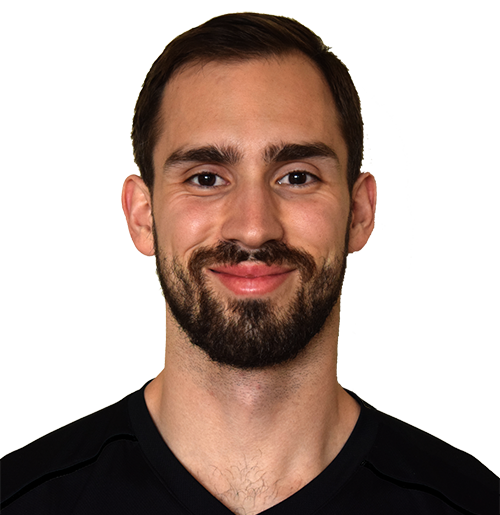 Certified Personal Trainer
After graduating, I was excited to turn my part time exercise job into a full time career. I worked as a personal trainer for years around quite a few great fitness professionals and was fortunate enough to have an amazing client base. I was helping people, soaking up experience, and learning whenever possible, but the traditional training method felt limiting. I knew I needed to establish my own online platform that I could control and develop. But like when I was a kid, I didn't have the knowledge to immediately change my situation. So, time to learn more. 
While training, I got a camera and started my digital education with photography and the very basics of web development. My early picture taking and site making skills were pretty rough, but both were a ton of fun. (If you're on the fence about picking up photography as a hobby, do it!) Videography, graphic design, and a little SEO work came next and completed my 'I don't really know what I'm doing but I'm trying my best' beginner's marketing toolbox. Those rough skills provided me with an opportunity to shift my focus and work full time on the marketing side of fitness. Similar to the years I spent training, I was able to create content alongside some great individuals, work with dozens of gyms/studios, and learn a lot about online fitness development. My toolkit was (and is) far from complete, but the time I spent in that digital space helped prepare me to create this site and all of the content on it – 100% original content is important to me.
I've been able to improve my life in many ways thanks to the availability of free online education and the guidance of experienced teachers and that theme is the driving force behind Fitstra. My hope is that this site serves as a trusted resource for those seeking exercise information and removes the overwhelming barriers to entry for newer fitness enthusiasts. Exercise can be incredibly confusing, but concepts become more understandable and larger goals seem less far fetched with the right info. By combining this zero cost education approach with a mixture of paid services, I can simultaneously help the most amount of people and support myself financially. As a trainer, that's the ultimate win-win.
For my own workouts I tend to focus on functional hypertrophy/strength and cardiovascular endurance. At 30, I'm no longer interested in being the biggest or strongest guy in the gym.  Instead, a lean and muscular physique that moves well with a high aerobic capacity is my goal. 
When I'm not programming a new workout or at the gym, I'm usually either out shooting with my camera, playing PC games, or wasting time on Reddit. Follow me on Instagram and let's talk photography!
Whatever your exercise goals or preferences are, I'd love to work with you as your online personal trainer.